A classic childhood favorite, these fruity pebble macarons are made with a soft and chewy French macaron shell, a cereal milk-infused buttercream frosting, and an extra sprinkle of cereal on top. With flavors like fresh orange, tart lemon, and sweet cherry all together, they're the ultimate sweet and fruity dessert.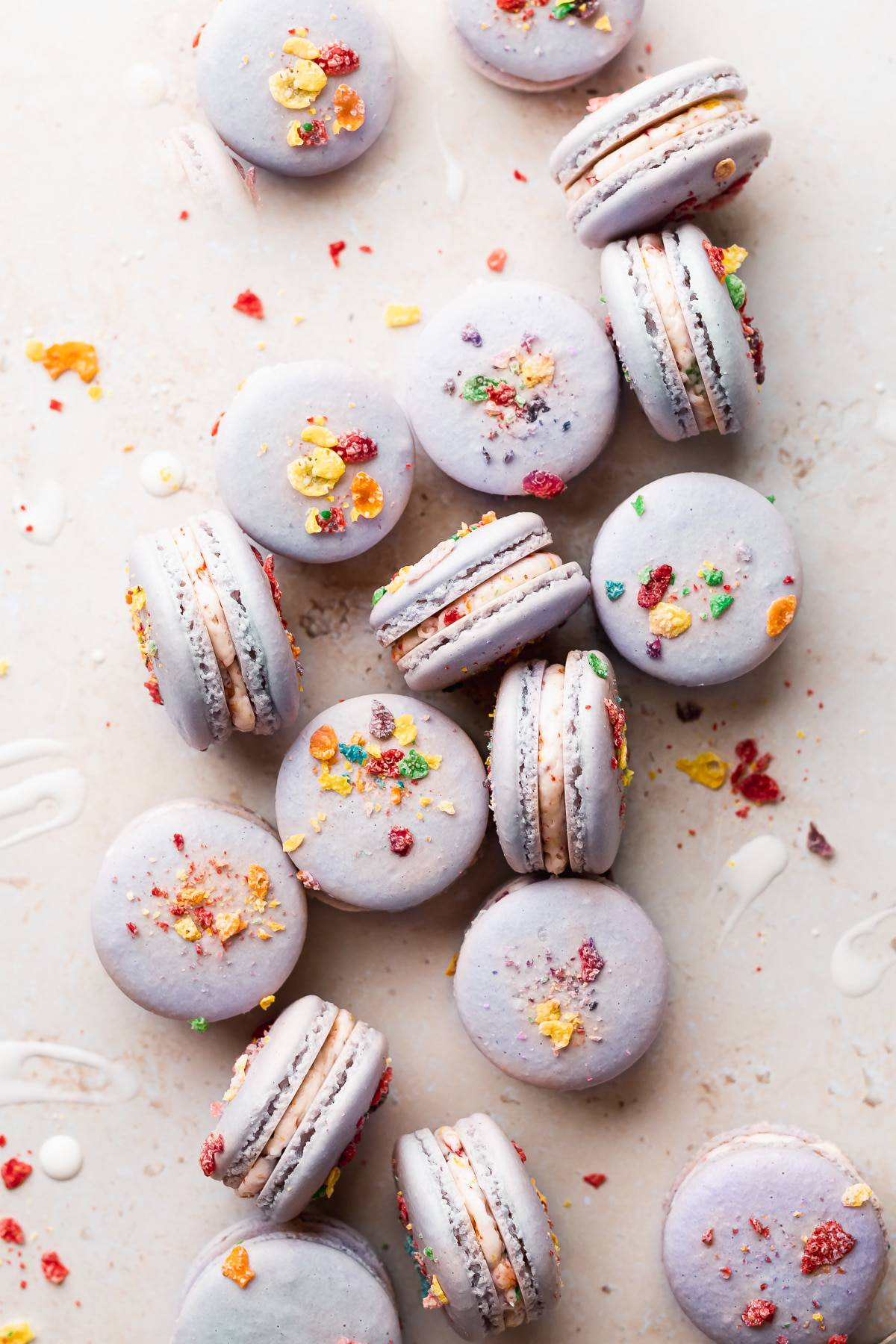 Fruity pebble macarons are just one of the many fruity pebble desserts I've created that are always huge hits with readers.
The fruity flavor just can't be beaten, which is why I used them to make fruity pebble cake and fruity pebble donuts!
Jump to:
why you'll love this recipe
These French macarons taste JUST like a bowl of fruity pebbles!
You can substitute fruity pebbles for any kind of your favorite cereal.
step by step video
ingredient notes & substitutions
Almond meal- this recipe calls for blanched almond meal and should not be substituted.
Egg whites- this recipe calls for large egg whites from fresh eggs. They should not be substituted for carton whites as these will not whip properly.
Gel food coloring- any pastel color is great for these macarons. However, you should use gel or powder food coloring only because they don't have as much water content, which can result in a liquidy batter.
Unsalted butter- it should be super soft and warm for making the buttercream.
Fruity pebbles- you can substitute the fruity pebbles for any of your favorite cereals!
instructions
Note: Full ingredient measurements and instructions can be found in the recipe card at the bottom of this page.
Step 1: Sift the blanched almond meal and powdered sugar into a large bowl together. Any large pieces of almond meal that won't go through the sifter can be tossed.
Step 2: Whip the egg whites until they form a stiff meringue, about 10-15 minutes. Add the dry ingredients into the egg whites in thirds to not deflate the batter too much. Then use a rubber spatula to fold them together.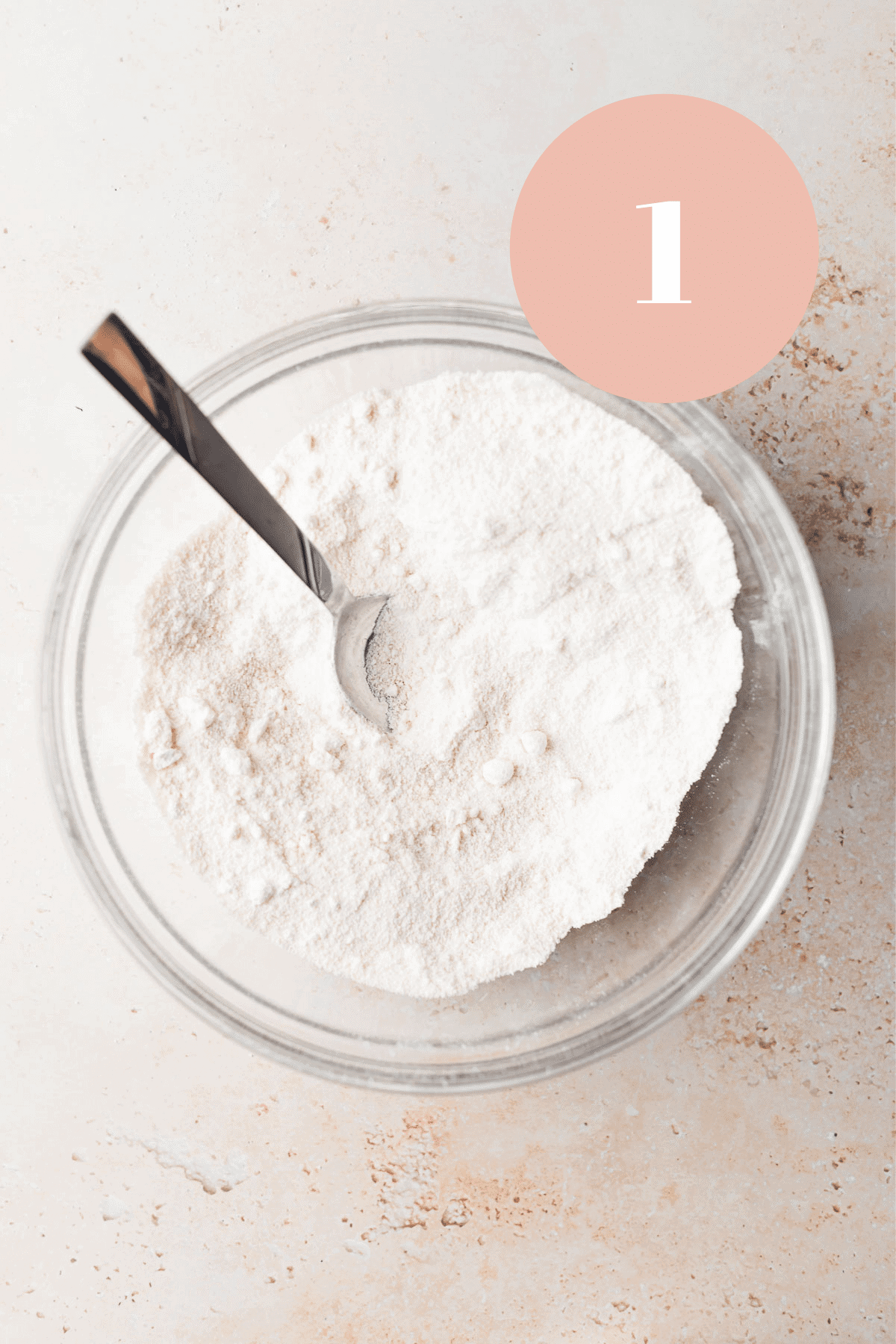 Step 3: Fill a piping bag fitted with a small round tip with the batter and pipe it directly over the top of a Silpat-lined baking mat.
Step 4: Drop the tray a few times on the counter to release any air bubbles. You can pop any bubbles with a toothpick.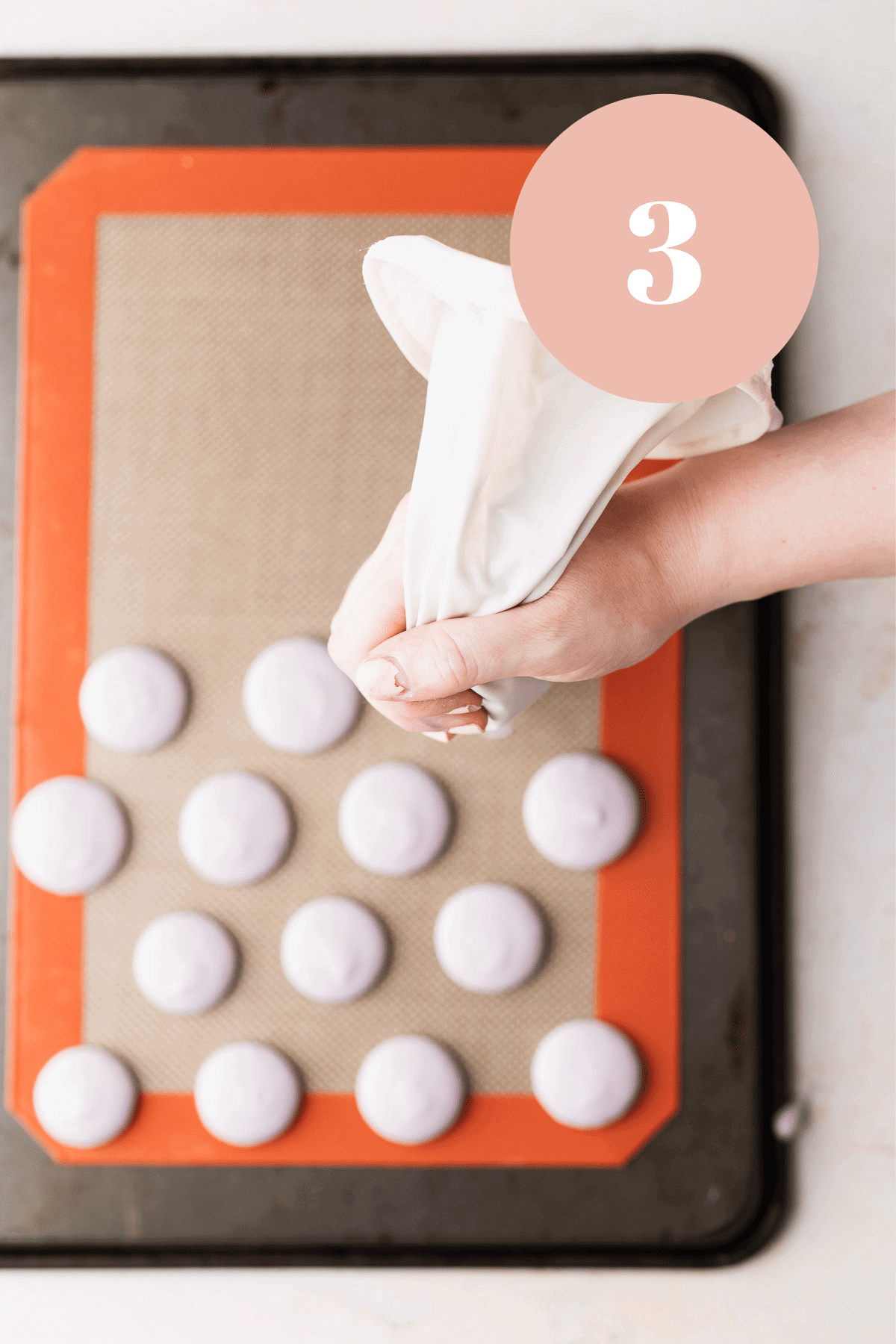 Step 5: Sprinkle the tops with crushed fruity pebbles and then allow them to rest until a skin forms. Bake for 13-14 minutes then cool completely on a wire rack before removing them from the tray.
Step 6: In a small bowl, soak the fruity pebbles in the milk. Set aside.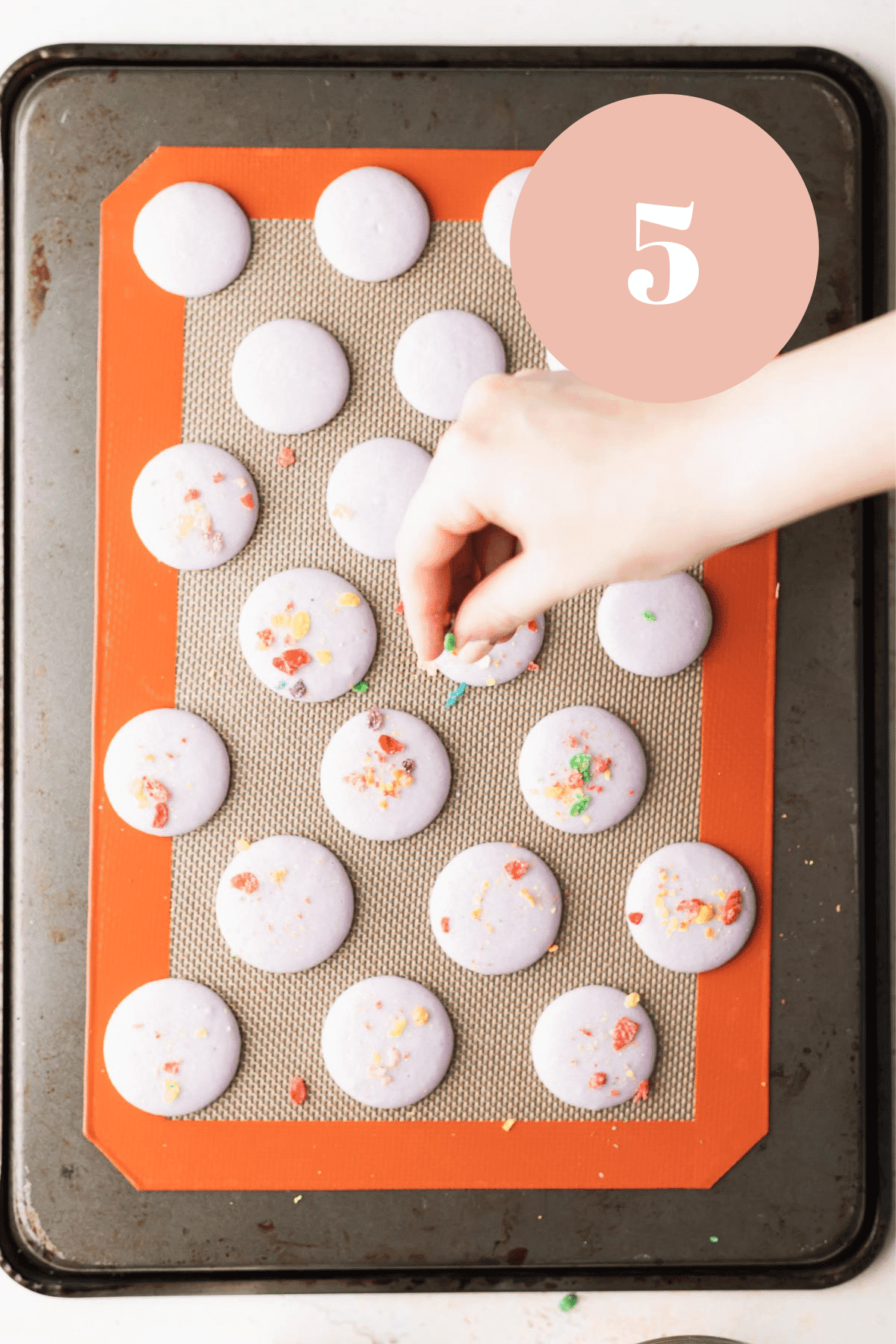 Step 7: Whip the butter in a mixing bowl with a paddle attachment until smooth and lump-free. Add the powdered sugar gradually and whip until light and fluffy, then add the soaked fruity pebbles and milk. Whip on high until the buttercream is super light and fluffy.
Step 8: Fill a piping bag with the buttercream and pipe dollops on the bottom of the macaron shell. Sandwich the filling with the other macaron shell.
expert tips
Top the shells with cereal before resting: if you wait too long, the shells will start to form their skin the cereal won't stick.
Let the macarons mature in the fridge overnight- Allow them to mature in the fridge for at least 12-24 hours. This is when the moisture from the buttercream seeps into the shells and makes them soft and chewy.
variations
You can easily substitute any cereal instead, like these other ideas:
Lucky Charms macarons
Captain Crunch macarons
Cinnamon Toast Crunch macarons
You can also fill them with a small scoop of vanilla ice cream and then roll them in cereal for macaron ice cream sandwiches!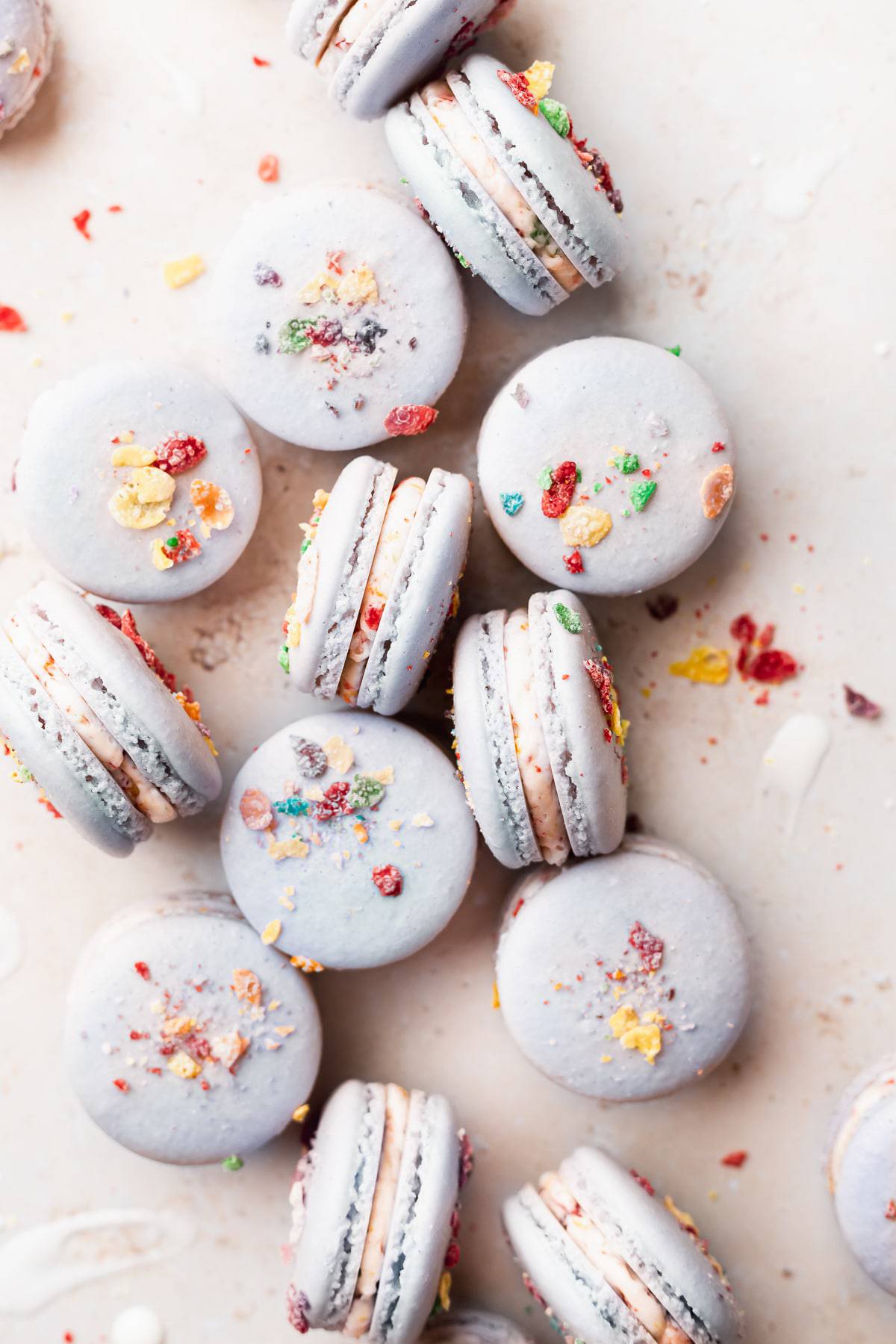 storage & freezing
Once baked, French macarons should be stored in the fridge or freezer to keep them soft and fresh.
They can be kept out on the counter for a few hours, then they should be put in the fridge. If they sit out for too long they will lose their soft texture and get stale and crisp.
faq's
Are french macarons gluten-free?
Yes! Because they do not contain regular gluten flour, they are naturally gluten-free desserts.
How long can french macarons sit out on the counter?
They should only be left on the counter while you plan on eating them. If not, it's best to keep them in the fridge to keep them from getting stale and crunchy.
What do french macarons taste like?
They have a really thin crisp cookie layer with a soft and chewy meringue center and a creamy buttery-flavored filling.
What causes french macarons to crack?
A few reasons, the egg whites were over-whipped or the oven is too hot.
more recipes you'll love
If you make this recipe, let me know how it went in the comments below, I'd love to hear from you! You can also tag me on Instagram or Facebook so I can check it out!
Recipe 📖
Fruity Pebble Macarons
Inspired by a childhood favorite cereal, these fruity pebble macarons are full of orange, lemon, and cherry flavored fruity pebbles on top of the shells and also soaked into the buttercream.
Equipment
rubber spatula

fine mesh sifter

5 qt stand mixer, mixing bowl and whisk attachment

piping bag

small round tip

baking pan

parchment paper or silicone baking mat
Need Metric Measurements?
Use the button options below to toggle between US cups and Metric grams!
Ingredients
124

grams

powdered sugar

140

grams

almond meal

107

grams

egg whites

room temperature

110

grams

sugar

¼

teaspoon

cream of tartar

1-2

drops

gel food coloring, blue, purple, or yellow

⅛

cup

fruity pebbles

to sprinkle on top

white vinegar

for wiping down the mixing bowl
Fruity Pebble Buttercream
½

cup

milk

¾

cup

fruity pebbles

8

tablespoon

unsalted butter, very soft

1

cup

powdered sugar
Instructions
Sift the almond meal and powdered sugar into a large bowl and set aside.

124 grams powdered sugar,

140 grams almond meal

Wipe down the inside of the 5 qt stand mixing bowl with a paper towel dampened with white vinegar. Add the egg whites and attach the whisk attachment. Start mixing on speed 2 for 2-3 minutes or until the egg whites are foamy.

white vinegar,

107 grams egg whites

Add the cream of tartar and increase the speed to 3.

¼ teaspoon cream of tartar

With the mixer running, start sprinkling in the sugar a little bit at a time. When all the sugar has been added, increase the speed to 4 and continue mixing for 5 minutes.

Stop the mixer and add the food coloring. Continue mixing on speed 4 for 3 minutes more until the whites are glossy and the whisk holds a stiff peak that bends just at the tip.

1-2 drops gel food coloring, blue, purple, or yellow

Use a rubber spatula to transfer the egg whites into a large clean bowl.

Add ⅓ of the dry ingredient mixture to the whites. Fold very gently with the rubber spatula until combined. The add the next ⅓ and fold to combine. Continue until all of the dry ingredients are incorporated.

Using your rubber spatula, scrape the batter against the side of the bowl. Every few scrapes, pick up the batter and let it fall into the bowl. The batter should flow slowly in ribbons. Try to make a figure 8 with the batter. If it falls without breaking, it's ready.

Line an upside down baking pan with parchment paper or silicone baking mat. Fill the piping bag fitted with the round tip with the batter. Pipe directly over the top of the parchment. When the pan is full, rap and drop the pan on the counter to release any air bubbles. You can use a tooth pick to pop any bubbles that come to the surface.

Sprinkle the tops of the shells with the fruity pebbles.

Preheat your oven to 300 degrees F/149 degrees C.

Allow the macarons to dry out and form a skin. This can take anywhere from 30-40 minutes depending on your humidity level. They are ready to bake when the shell can be touched without it sticking to your finger or leaving an impression.

Bake for 13-14 minutes or until you can gently touch the top of the shell without it moving from the foot. Place on a wire rack to cool completely before removing.
Making the Fruity Pebble Buttercream
In a small bowl, add the fruity pebbles and milk and stir them together. Set aside.

½ cup milk,

¾ cup fruity pebbles

In a stand mixing bowl, mix the butter on low until smooth and lump free, about 1 minute.

8 tablespoon unsalted butter, very soft

Mix in the powdered sugar on low, then increase the speed to medium and mix for 2-3 minutes until it looks very light and fluffy.

Drain the milk from the fruity pebbles and add the cereal to the mixing bowl. Mix until is incorporated completely into the buttercream.
Assembling the Macarons
Match up like sized macaron shells next to each other.

Fill a piping bag fitted with a small round tip with the fruity pebble buttercream. Pipe a dollop of the buttercream onto the bottom of one of the macaron shells. Place the other shell on top. Continue until all of the macarons are filled and assembled.

Place them in an air tight container and let them sit in the fridge overnight to mature and soften. Enjoy the next day!
Notes
If you make this recipe, let me know how it went in the comments below, I'd love to hear from you! You can also tag me on
Instagram
or
Facebook
so I can check it out!
Step by step process photos are provided above, in the body of this post.
Expert Tips
Store the macarons in the fridge overnight to allow the moisture in the buttercream to seep into the shell and soften it. Allow them to come to room temperature before enjoying!
Forgot to take out your egg whites? Place your egg whites into a sealed mason jar and place it in a bowl filled with hot tap water. Let it sit for 5 minutes and you'll have perfectly warm egg whites.
If you live in a humid area, resting could take you up to an hour. Do not place the pan underneath a fan, it will move the batter around and the shells will bake lopsided.
The only ingredients that can be substituted is the cereal and choice of gel food coloring. The main macaron ingredients can NOT be substituted. 
Nutrition
Serving:
1
serving
|
Calories:
88
kcal
|
Carbohydrates:
13.2
g
|
Protein:
2.1
g
|
Fat:
3.5
g
|
Saturated Fat:
0.3
g
|
Sodium:
6
mg
|
Fiber:
0.9
g
|
Sugar:
11.9
g
The calorie information provided for the recipe is an estimate. The accuracy of the calories listed is not guaranteed.